NIGHTLIFE
Throughout November, over 40 of Bangkok's best bars are joining BK for BAD Night Out—a cocktail-hopping event that features specially curated cocktail menus, with three drinks priced at a flat rate of B800++. This week, catch Tropic City, Lennon's, Sky on 20 and more, or book ahead for week 3 (Cactus, Iron Balls, To More); week 4 (Aesop's, Seen, Havana); or week 5 (ABar, Honest Mistake, Uncle Tim). To see the full line-up and to book your tickets, visit the website.
Through Nov 30. Various locations across Bangkok
Credit: Jael Facebook
Groove to future beats, hip hop and soul from Netherlands-hailing Jael and tunes from local DJ Bomber Selecta, while raising funds and awareness for Help Thai, a chairty supporting children from the poorest parts of Thailand.
Nov 7. De Commune, 1/F, Liberty Plaza, Sukhumvit Soi 55 (Thonglor), 088-419-7380. B300 via Ticketmelon
Vibe to nostaligic '90s tunes with live music from members of What The Duck, three-hours of free-flow cocktails featuring Iron Balls gin and vodka and unlimited tapas by chef Eric Weidmann, a winning challenger chef of Iron Chef Thailand.
Nov 8, 8-11pm. 3/F, Oriental Residence Bangkok, 110 Wireless Rd. B999++
Credit: Wanton Witch Facebook
An underground rave curated by Malaysian-born, Bangkok-based electronic and techno and house DJ Wanton Witch, along with conceptual artist and founder of Dubai-based record label Bedouin Records Salem Rashid, with support from Kuwait-based electronic music producer and DJ, Van Boom and Tokyo-based C-Kay.
Nov 8. Safe Room, 2/F, Whiteline, Silom Soi 8. B300
Credit: Rootsman Creation Facebook
A reggae album laucnh with special guests Ga-pi, Fyah Burning, K9 and Rudi Samansap

ร้านแผ่นเสียง Record Shop, Pradipat Soi 19 . B200
Join the launch party of this Lad Phrao favorite's second branch, with burgers and two-for-one deals on Thai craft beer.
Nov 8. The Fat Cow Bang Wa, 1, 4 Petchkasem Rd., 091-771-4619
Back for its fourth year, this boozy festival will offer up over 250 beers and ciders from over 50 breweries from across 19 countries. As well as beer, you can expect food ranging from burgers to Thai street-food, plus music from local bands and DJs including Polycat (Nov 8), Playground and Portrait (Nov 9). Tickets are available via Ticketmelon priced at B499 for one day (including one drink, or B799 for both days (including three drinks). Tickets on the door will be priced at B599/day.
Nov 8-9. The Link Asoke-Makkasan, 1643/5 Phetchaburi Rd.

Wear your best girl group attire and get down to tunes by Spice Girls, TLC, Destiny's Child, Charli XCX, Sugar Babes and beyond, plus a lip-sync challenge to win tickets to Wonderfruit.
Nov 9, 9:30pm. Penta, Ekkamai (between Soi 26-28). B250 (includes one drink)
Radio show and record label Future Sound of Egypt brings its trance, progressive and deep house sounds to Southeast Asia for the first time, with a line-up featuring Ahmed Romel, Aly & Fila, David Forbes B2B Mark Sherry, Solarstone and more.
Nov 9. CenterPoint Studio, 9 11 Lasalle Rd., Bang Na. B2,400 via Ticketmelon
After launching last year on Chinatown's buzzing Soi Nana, the two-day celebration is back, this time taking over Baan Silom's Nineteens Up (from 1pm each day) with G&T booths touting over 100 brands of gin, accompanied by gin masterclasses. Come Saturday evening (8pm), the party will return to Soi Nana, with special guest bartenders from Taiwan, the Philippines and South Korea taking over at Teens of Thailand, Tep Bar, Ba Hao and Asia Today, serving nothing but the botanical spirit. Remember to bring your own glass to the festival to reduce plastic waste.
Nov 9-10. Nineteens Up and Soi Nana (Chinatown). B200 via Ticketmelon (or B300 on the door), includes one gin drink and souvenir tasting glass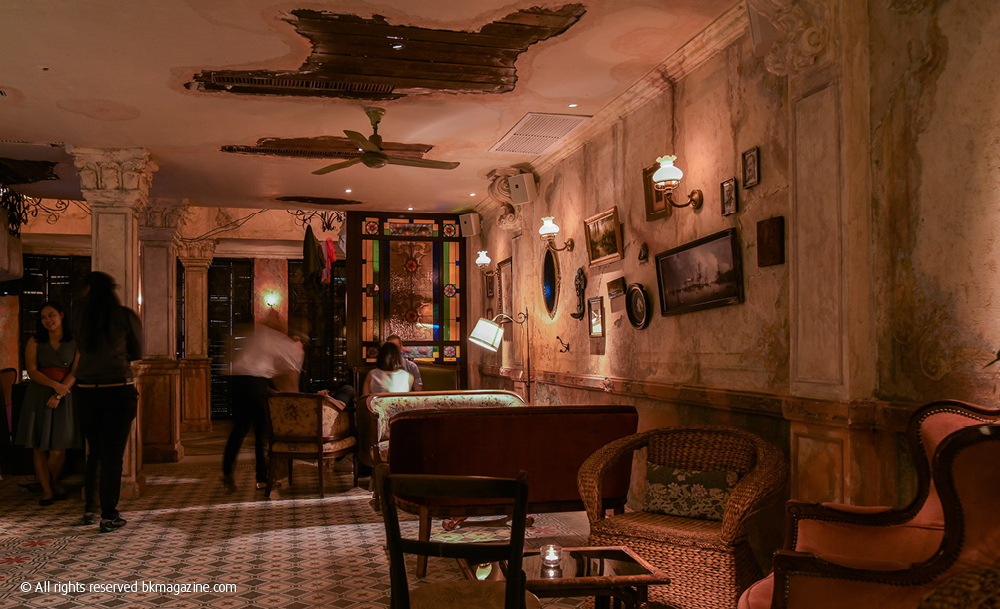 Join the big finale of Havana's four days of fourth birthday celebrations, with free-flow booze from 7-9pm.
Nov 4-7. Havana Social, Sukhumvit Soi 11, 080-467-7409
LIVE MUSIC
Phloen Chit's Mexican mainstay La Monita is celebrating its 10th birthday with a huge block party. For B1,200 (or B1,500 on the night), you can expect free-flow drinks (7-9pm) and food (6-10pm) from La Monita, Billy's Smokehouse, Osito Tapas and Thai Niyom. The bash will also feature live music from local reggae legends Ample Soul and T-Bone and the kings of Thai hip hop, Thaitanium.
888/25-26 Mahatun Plaza, Phloen Chit Rd., 02-650-9581
Credit: Young Ohm Facebook
A live music concert featuring Thailand's most popular acts, from The Toys, to Paradox, to Young Ohm.
Nov 9. Oasis Arena, Show DC, 99/6-9 Chaturathit Rd. B1,100 via Ticketmelon
ART & CULTURE
Opening Nov 7, this exhibition will showcase 17 fresh new contemporary artists from Thailand, in collaboration with the Thai Youth Platform, I Wanna Bangkok. Expect paintings, photography, fashion, performance art, 3D animation and more.
Nov 7-25. ATT 19, 19 Charoenkrung Soi 30, 083-555-5739
A series of film screenings (including Rabbit a la Berlin, Bornholmer Straße and more), exhibitions, piano concerts and talks organized by Goethe-Institut Thailand, Alliance Française and the German Embassy to commemorate the 30th anniversary of the Fall of the Berlin Wall. Contemporary witnesses will share their experiences, original wall segments will be on display in the garden of the German Embassy, and a tuk-tuk-service will be available to shuttle between the three venues.
Nov 9, 3-9pm. Goethe-Institut Thailand, 18/1 Soi Goethe (Sathorn Soi 1)
Join this literature conference to explore what defines our cultural identities ("East" and "West") in a globalized world, featuring short story presentations and interactive discussions with a panel of essayists and writers, including Thai philosopher, poet and writer Naowarat Pongpaiboon.
Nov 9, 4pm. Bangkok Art and Culture Centre (BACC), 939 Rama I Rd. Free with registration
Three Thai artists–Kraisak, Wal, and Kit Chirachaisakul–showcase printworks created using the centuries-old "mezzotint" technique, which results in soft, velvety gradations of tone.
Nov 14-Dec 14. RCB Galleria 2, 2/F, River City Bangkok, 23 Charoenkrung Soi 24. Free
SCREENINGS
Amy Miller's documentary The Carbon Rush takes a deep look at the damaging effects of the carbon trading industry around the world. Hosted by Climate Strike Thailand.
Nov 8. Whiteline, Silom Soi 8. Free
Catch rock star Prince's highly autobiographical feature film, which won both an Oscar and a Grammy award. The story follows a headstrong, vulnerable young musician on his road to stardom, as he struggles with his inner demons and with his alcoholic father who beats his mother. English with Thai subtitles.
COMEDY
Known for pushing the boundaries of good taste, this Australian comedian will have you laughing at everything you shouldn't with his aggressive stage performance and offensive material.
Nov 8, 8:30pm. The Comedy Club Bangkok, Royal Oak Pub, Sukhumvit Soi 33/1. B600 via ComedyClubBangkok / B800 at the door
FASHION
Terashima Naoki Trunk Show and Shoeshine Workshop
Get your kicks polished to perfection by one of the most famous shoeshiners in Japan (it's a thing, apparently!). Shoecare and maintenance is priced at B1,800 and the shoeshine workshop (Nov 17, 10am-midday) at B2,500.
Nov 16-17. The Decorum, Ari Samphan Soi 5, 086-533-5255
UPCOMING
Father-son duet Sylvain and Charlie Bouillet make their Asia debut of this heartwarming performance, which explores the paternal bond through the use of each other's weight, balance, and counterbalance, creating a poetic interaction between the bodies to express the relationship between child and parent.
Nov 14-15. Hostbkk, 4/F, Chan Phen Restaurant, 1030/1 Rama IV Rd. B800 via Ticketmelon

A festival featuring over 30 international artists, with musical styles ranging from indie rock to post-punk to electronic, including English pop-rockers Bombay Bicycle Club, Australian scuzz-punks King Gizzard & The Lizard Wizard, English goth-rockers The Horrors and American surf-rockers The Drums (US), joined by Badbadnotgood (US), Cuco (US), Swim Deep (UK), Benny Sings (NL), Cosmo's Midnight (AUS) and Pomrad (BE). Local acts include Youngohm & Young Bong, Stoic, Khana Bierbood and many more.
Nov 16-17. Live Park Rama 9. B2,990 for a one-day pass; B3,990 for a two-day pass via Ticketmelon