The future holds fortune telling, pre-Quest parties, FutureFest, drag shows, folk concerts, K-pop and heavy metal.
Thursday, Nov 1
In the lead up to Dropzone Festival Chapter 2, DJs Matroda and Wanton Witchtake control of the decks.
Nov 1, 10pm. NOIZ Club Bangkok, Sukhumvit Soi 55 (Thonglor), 089-789-6355. Free entry before 11pm on Ticketmelon/B200 at the door.
Postbox
The debut of Smallroom bands Sunrise, Moon Bright and Postbox, along with more music from J Penguin Villa.
Nov 1, 8pm. PLAY YARD by Studio Bar. Ladprao Soi 8, 085-146-8017. Free.
Choreographer and director Teerawat Ka-ge Mulvilai takes inspiration from observing human behaviors on social media with this dance performance piece.
Nov 1-4. Bangkok Art and Cultural Centre, Rama 1 Rd., 094-494-5104 or 082-692-6228. B650. Schedule available here.
Having collaborated with Fatman Scoop, Big Ali, Booba, Black Eyed Peas, Skrillex and A-Trak, Eazy returns to control the decks with DJ EThemiz and Mizz G.
Nov 1, 10pm. Sugar Club, Sukhumvit Soi 11, 061-391-3111. B300 for males/ B200 for females (include a drink).
World-renowned magicians and illusionists like Henry Vargas, Alain Simonov, Rafik Zitouni, Valeriy Bastrakov and Sonny Sontana headline this celebration of all things magical.
Nov 1-4, 10am. The Promenade, Ramindra Rd., 02-947-5000.
Jaruwan Mueangkhwa's multimedia paintings represent the way lunar phases guide lives in Isaan.
Nov 1-30, 10am. YuYuan Art & Antique, Chiangmai Rd., 094-554-8883.
---
Friday, Nov 2
A performance of Ariel Dorfman's psychological thriller, exploring the delicate balance between vengeance and closure in the aftermath of a totalitarian regime. Directed by Peter O'Neill and featuring Kelly B Jones, James Laver and Jaime Zúñiga, the production will run every Friday and Saturday of November.
Nov 2-Dec 1, every Fri-Sat, 8pm. Peel the Limelight Studio, 2/F, Jasmine City Building, 2 Sukhumvit Soi 23. 097-293-4274. B700 on www.peelthelimelight.com.
The Korean indie band renowned for tracks like "Comes and Goes" and "Wi Ing Wi Ing," present their latest album 24.
​​​​​​Nov 2, 6pm. BCC Hall, Central Plaza Ladprao, Phranon Yothin Rd., 02-795-7128. B2,000/B2,800 on Ticketmelon.
The side project of Jules Blons and Aneesh Medina returns to Cube for a special Halloween Edition, filled with melodic tunes at the hottest new secret venue in Silom! Best costume receives an ultimate party pack prize.
Nov 2, 11pm. CUBE, Silom Plaza, 095-252-8301. B200 after midnight (includes a drink).
House music with touches of disco and R&B from DJs Boogie G and Jaydubb.
Nov 2, 10pm. Safe Room, 2/F, Whiteline, Silom Soi 8, 087-061-1117.
Join the first anniversary of Mendy Indigo's Nowhere to Now Here party series with the special guest Andre Hommen, owner of the label These Eyes.
Nov 2, 10pm. De Commune, 1/F, Liberty Plaza, Sukhumvit Soi 55 (Thonglor), 088-419-7380. B350 (includes 1 drink).
Lebanese producer and DJ Rabih Beaini is joined by the khaen master of The Paradise Bangkok Molam International Band, Don Sawai Kaewsombat. Support by Maft Sai and Prince Jelly.
Nov 2, 9pm. Studio Lam, Sukhumvit Soi 51, 02-261-6661. B400 with 1 shot of yadong.
In the name of equality and self-expression, this event invites you to wear whatever you like, with a stage open for lip-sync performances and buy-one-get-one-free on cocktails from 7-9pm.
Nov 2, 7pm. The Overstay, Charansanitwong Soi 40, 064-723-4975. Free entry.
A night of percussion, high energy beats and hypnotic rhythms inspired by the sounds of Africa, led by Soi Dogs and Koish.
Nov 2, 9:30pm. GLOW, Sukhumvit Soi 23, 086-614-3355.


---
Saturday, Nov 3
South Korean indie pop boyband returns with tracks like "Dirty House","I Got The Blues", "Liar", and "Hug me."
Nov 3, 6pm. Ultra Arena, Show DC, Rama 9 Rd., 02-203-1888. B2,000-B4,500 on www.do-concert.com.
Celebrated New York-based Japanese photographer and 2007 Lucie Visionary Award-winner Kenro Izu will showcase his body of work, including his experimental blue-black photo series "BLUE" and his "Sacred Places" series, which so far spans 30 countries. The exhibition will kick off with an artist's talk on Nov 3, 4pm.
Nov 3-30, House of Lucie, Ekkamai Soi 8, 095-478-9987.
An evening of mind readings and Taro card future predictions by Sarin Suriyakoon.
Nov 3, 8pm. 3/F, Thong Lor Art Space, Sukhumvit Soi 55 (Thonglor), 095-924-4555. B500 here.
Warming Bangkokians up for Hanoi's upcoming Quest festival, the Slum Disco and Transport DJ crews (who will be performing at the festival) present a lineup including Seelie, Mr Mowgli, and Tek Harrington supported by Brent Burns and Chote.
Nov 3, 9:30pm. Studio Lam, Sukhumvit Soi 51, 02-261-6661. B200 on entry.
Kampala-born Indian artist Varsha Nair presents her mixed and multimedia works across two galleries, plus a site-specific installation, exploring the constant changes of the contemporary landscape, including displacement and gentrification.
Nov 3-Dec 2. WTF Gallery and Cafe, Sukhumvit Soi 51, 02-662-6246 / Nov 10-Jan 13, Bridge Art Space, Charoenkrung Rd., 089-666-2051.
Black and white photographic exhibition by Chakrit Leelachupong, using camera angles, close ups and shadows of mourners against the Grand Palace's white surrounding wall, to record their grief over the passing of beloved King Rama 9 and explore the line between the living and the dead.
Nov 3-Dec 28, Kathmandu Photo Gallery, Pan Rd., 02-234-6700.
Mustache's first warehouse takeover, with live electronic music from Orbital XX, deep house, a beer garden plus Thai and Western food.
Nov 3, 3pm. Quaint, Sukhumvit Soi 61. From B500 on Eventpop and B600 on entry (includes a drink).
A day dedicated to folk culture, with mountain sounds from 13 folk bands, food and drinks, and a local market.
Nov 3-4, 4pm. ChangChui Creative Park, Sirinthorn Rd., 081-817-2888.
A festival of arts, culture, food and music, with performances from Jinta, Sriracha Rockers, Polycat, JK Bua, KQ and more, plus a modern art exhibition from Lyla Phimanrat.
Nov 3-4, 2:30-9:30pm. The Jam Factory, 41/1-41/2 Charoen Nakorn Rd., 02-861-0950. From B400/day on eventpop.
Masquerade ball with a live band and 2-for-1 drinks from 6-9pm, followed by drag shows between 9-11pm, led by Pagina Heals. The first 20 guests to arrive in costume before 9pm will receive a complimentary drink.
Nov 3, 6pm. Vertigo Too, 60/F, Banyan Tree, 100 Sathorn Rd. B500 after 9pm (includes 2 drinks).
Ozram (Oriental Sub Sessions) together with DeLorean, Will and Azek will take over the decks with UK garage, grime, dubstep, dancehall, hip-hop, footwork, jersey, drum 'n' bass and techno.
Nov 3, 9pm. De Commune, 1/F, Liberty Plaza, Sukhumvit Soi 55 (Thonglor), 088-419-7380. B200.
---
Sunday, Nov 4
One of only two exclusive shows in Southeast Asia will see the international heavy metal band hit the stage with former Slipknot drummer, Joey Jordison. Only 250 tickets available.
Nov 4, 8pm. Overtone, RCA Zone D, Rama 9 Rd., 02-203-0423. Pre-sale from 1,400 (at Metal Quest, 3/F, Palladium Mall, 081-703-8980, or bit.ly/2Puk4t3)/ 1,800 on entry.
A special concert with mashups between Marc Tatchapon x Mints/ Earth Patravee x Whal & Dolph/ Poy Portrait x Win Sqweez Animal/ Ink Waruntorn x Lipta/ Musketeers x Playground.
Nov 4, 5pm. Fortune Sky Arena, Fortune Tower, Ratchadaphisek Rd. B399 here/ B550 on entry.
Ongoing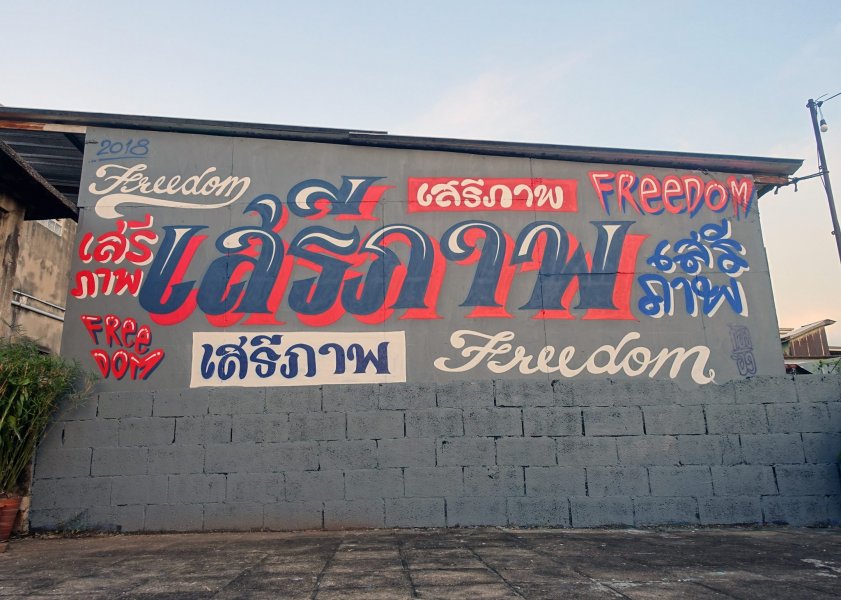 Souled Out Studios are running a series of urban and street art shows and installations by internationally known artists like Norwegian Martin Whatson (Nov 3).
Through Dec 1. Cho Why, 17 Soi Nana, Charoen Krung Rd.
Through Feb 3, Bangkok Art Biennale is transforming Bangkok galleries and ancient monuments with contemporary art exhibitions from artists both local and international. There are twenty venues to visit presenting works and art installations from many renowned artists, including Japanese polka-dot lover Yayoi Kusama, Golden Lion winner Marina Abramovic, American artist Jean-Michel Basquiat, and the international art group Souled Out Studios. More information about works, venues, and artists on www.bkkartbiennale.com.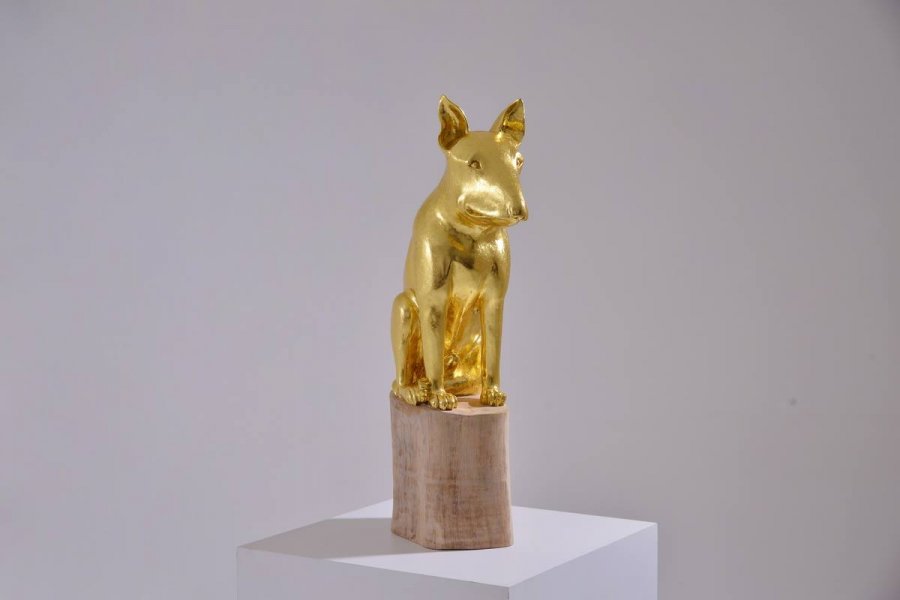 As part of the Bangkok Art Biennale, the French visual artist Aurèle Ricard will showcase his paintings and seven sculptures of his globetrotting "LostDog" in different sizes and colors.
Through Feb 2, 10am. PT Gallery, Charoenkrung Soi 30, 02-266-4344.
Niti Wattuya's paintings depict landscapes and the beauty of nature through delicate use of color and brushstrokes.
Through Nov 30, 6pm. Numthong Gallery, Aree Soi 5, Pahonyothin Soi 7, 02-617-2794.
Three artists, Ditapong Boonsanong, Ong-arj Loeamornpagsin and Suwit Maprajuab, explore ideas of existence and humans' position within the universe through their art.
Through Nov 25. Changchui, Sirinthorn Rd., 081-817-2888.