The ultimate guide to what to do in Bangkok this weekend.
Thursday, Oct 25
The frontman of UK indie-rock band Five by Five, Jay Zieseniss, peforms alongside Bangkok folk rockers John Will Sail, Stoic, and Pimwa and Ink.
Oct 25, 8:30pm. Maggie Choo's, Hotel Bangkok Fenix Silom , 320 Silom Rd., 091-772-2144. Free entry.
Koh Phangan-based DJs Graham Gold and A bring Full Moon Party vibes to EmQuartier's rooftop bar with Escape resident DJ KingSize and saxophonist Antonio.
Oct 25, 5pm. 5/F, Escape, EmQuartier, Sukhumvit Rd., 02-258-6515. Free entry.
Mysterious music producer i_o, aka Garrett Lockhart, showcases his progressive techno sounds.
Oct 25, 9pm. De Commune, 1/F, Liberty Plaza, Sukhumvit Soi 55 (Thonglor), 088-419-7380. B500 on Eventpop.
Top Australian EDM duo Rave Radio, known for their million-view hits like "Rock It," "Carry You Morning Light," and "Make It Better," will show why they've earned high-profile support slots alongside the likes of Martin Garrix, Hardwell, David Guetta, Dyro and Laidback Luke.
Oct 25, 9pm. Levels, Sukhumvit Soi 11, 082-308-3246. Men B400/Women B300 (includes 1 drink).
Cactus' weekly gay night promises vodka-based cocktails amid a Californian-designed venue.
Oct 25, 7pm. Cactus Bar, Soi Yenakart, 02-249-1451.
Listen to alternative sounds from four local indie bands: Buppah Psyche, Palin, Diaries and Geumdageum.
Oct 25, 8pm. Play Yard by Studio Bar, Lat Phrao Soi 8, 085-146-8017. B280 on Dropoz.
Kanrapee Chokpaiboon, of Street Photo Thailand, exhibits his photo series taken as an "alien" far from home in New York,
Oct 25, 7pm/Dec 6, 11am. Glimpse Space, 1/F, Asia Building, Petchaburi Rd., 081-258-6649.

---
Friday, Oct 26
Celebrate the third birthday of Shall Not Fade with DJ and label manager KGW along with Mr Mowgli and Seelie. Also expect esoteric sounds from Transport residents.
Oct 26, 9pm. 12 x 12, Tararon Soi 2, Sukhumvit Soi 55 (Thonglor), 094-260-4713. B200 on Ticketmelon.
Nineties hip hop and r'n'b from the Dope as Funk crew, including DJ Aopsher, Tommy Nori, and ARIN, along with special guest DJ Bomber Select. Dress up Halloween-style to win free access to Dope as Funk parties all year round and a B3,000 Game Over voucher.
Oct 26, 10pm. Game Over Lounge, Liberty Plaza, Sukhumvit 55 (Thonglor). B300 on Ticketmelon.
Audience members have the opportunity to get their minds read and futures predicted by Sarin Suriyakoon.
Oct 26. Live Lounge Bkk, 10/47 Trendy Building, Sukhumvit Soi 13. B500 on Ticketmelon.
The masquerade party under the theme of The Purge asks all partygoers to dress as weird as they want and lose themselves in the hip-hop vibes.
Oct 26, Mercure Bangkok Makkasan, Petchaburi Rd., 02-115-3333. B450 (includes a drink).
At this early Halloween party, expect indie-rock from The Pillars, alternative-rock from Five by Five, electronic-rock from Viped, rock and roll from Plague, metal from Peace, folk from Matthew Fischer and hip hop by Ramsey Judson, as well as a costume contest and games.
Oct 26, 5pm. Fatty's Bar and Diner, Asoke-Dindaeng Rd., 02-245-2965. Free entry.
Beer pong bar Atomic hosts a pre-Halloween party with a best costume contest, a special Jameson "whiskey pong" and live DJ.
Oct 26, Atomic Bangkok, 2/F, The Opus, Thonglor Soi 10, 082-502-5848.
Filmmakers are invited to submit their 10-minute horror films, with screening from 9pm followed by an after party. Submit your films at bit.ly/2J4KzTv.
Oct 26, 8pm. Whiteline, Silom Soi 8, 087-061-1117.
Get spooked with four hours of non-stop music. Dress up to win giveaways.
Oct 26, 9pm. HI-SO Rooftop Bar, 30/F, So Sofitel, North Sathorn Rd., 02-624-0000. B450 on goo.gl/GzSiFW (includes a special Halloween drink).
The Grand Hyatt Erawan promises the chance to try wines from 10 different countries—France, Italy, Germany, Spain, the USA, Australia, New Zealand, Chile, Argentina and, yay, Thailand—across over 150 labels from suppliers like Wine Garage, Wine Merchant, Diageo Moet Hennessy, GFour and BB&B. The price is B1,650, which also includes some international snacks along the side. For reservations and further information, call 02-254-6250 or email restaurants.bangh@hyatt.com.
Oct 26, 7-10pm. 494 Ratchadamri Rd, 02-254-1234. See the Facebook event page.
---
Saturday, Oct 27
Loud BKK offers techno sounds from three Bangkok-based DJs.
Oct 27, 10pm. The Firm Night Club, Sukhumvit Soi 33, 065-880-0333. Free before midnight then B250 (includes 1 drink).
Niti Wattuya's paintings depict landscapes and the beauty of nature through delicate use of color and brushstrokes.
Oct 27-Nov 30, 6pm. Numthong Gallery, Aree Soi 5, Pahonyothin Soi 7, 02-617-2794.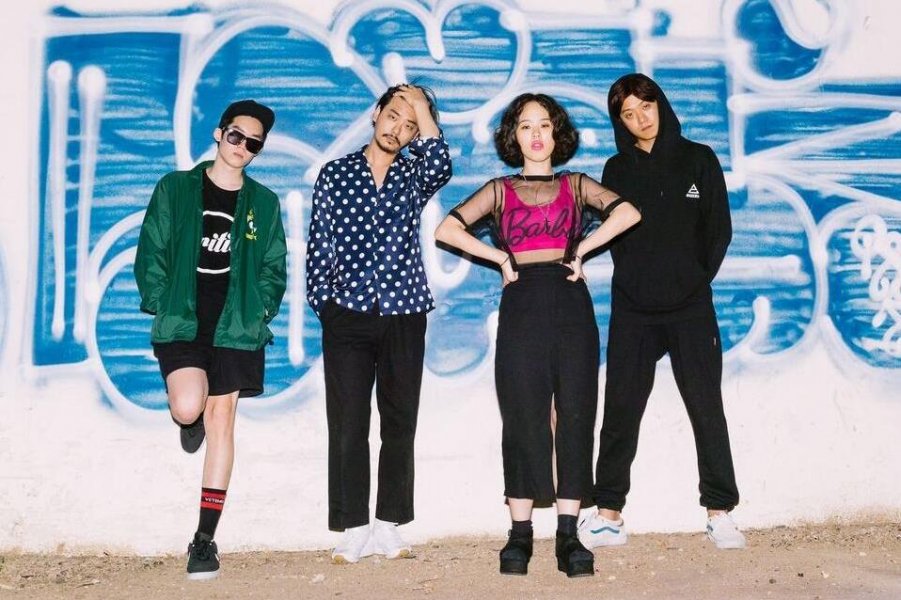 Korea's indie chart-toppers are set to perform alongside local band Safeplanet. Tickets are sold out.
Oct 27, 7pm. Rockademy, A Square, Sukhumvit Soi 26, 02-261-3833.
Enjoy live shows and musics from DJ Monito, Dear Rerox, and Mizz G. Give ways and all night special promotions.
Oct 27, 9pm. The Club Khaosan, Khaosan Rd., 02-629-1010 or 02-629-2255.
Screenings of horror films all night long, including Phantasm, Planet Terror, Mandy and Suspiria. Free popcorn and free welcome drink if you dress in theme.
Oct 27, 8pm. Whiteline, Silom Soi 8, 087-061-1117.
Show your dark side with a villains dress code and take the dance floor to a soundrack of familiar tracks.
Oct 27, 7:30pm. GMM Live House @CentralWorld, 8/F, 999/1 Rama 1 Rd. B600 on Ticketmelon.
A Halloween music festival hosted by Smirnoff, Zaap and Spacejam featuring a lineup of Ghastly, MissK8, R3hap, Breathe Carolina and Sura. Tickets are B1,500 or B3,500 for VIP.
Oct 27. Hall 98, BITEC, 88 Bang Na-Trat Rd., 02-749-3939
A mini festival featuring the likes of Flure, Noi Pru, Monotone, 2 Days Ago Kids and many more.
Oct 27, 2pm. Voice Space, BBD Building, Viphavadi Rangsit, 02-261-3883. From B700 on Eventpop.
---
Sunday, Oct 28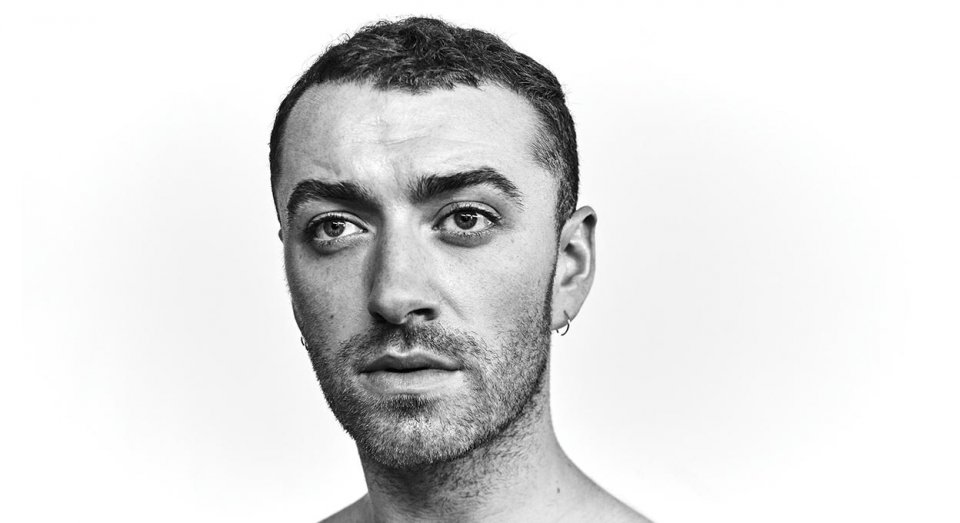 The Grammy award-winning British crooner makes his Bangkok live debut as part of his massive world tour on the back of his latest album The Thrill Of It All.
Oct 28, 8pm. Impact Arena, Muang Thong Thani, 99 Popular Rd., 02-833-4445. B2,000-6,000 on Thaiticketmajor.
---
Upcoming
As part of his Voice Notes tour in Asia, American pop singer Charlie Puth performs funky-pop hits like "Attention" and "How Long."
Oct 29, 7:30pm. Impact Arena, Muang Thong Thani, 99 Popular Rd., 02-833-4445. Starting from B1,800 from Thaiticketmajor.
Presented by BEC-Tero Entertainment, the 20-year-old "Young Dumb & Broke" singer will perform in support of his American Teen album.
Oct 31, 7pm. GMM LIVE HOUSE @CentralWorld, 8/F, 999/1 Rama 1 Rd. B1,800-2,800 on Thaiticketmajor.
---
Ongoing
Having made her name from the Line Webtoon Lazy Cooking, Thai artist Sibbil will showcase her food paintings.
Through Nov 8, 10am. 10ml Cafe and Gallery, Vipawadee Rungsit Soi 16/6, 089-465-6915.
Through Oct 28, Bangkok-born, New York-based artist Korakrit Arunanondchai will curate what he's billing as a new video and performance art series that will take place in Bangkok every three years. An international lineup of artists will exhibit in venues across Bangkok, kicking off at Bangkok CityCity Gallery (Sathorn Soi 1) on Oct 11 with Ian Cheng's live simulation, Emissary Sunsets the Self (2017), and Gallery Ver with Blue (2018), a video projection by Apichatpong Weerasethakul. Venues and artist lineup on ghost2561.com.
Between Oct 19-Feb 3, Bangkok Art Biennale will transform Bangkok galleries and ancient monuments with contemporary art exhibitions from artists both local and international. There are twenty venues to visit presenting works and art installations from many renowned artists, including Japanese polka-dot lover Yayoi Kusama, Golden Lion winner Marina Abramovic, American artist Jean-Michel Basquiat, and the international art group Souled Out Studios. More information about works, venues, and artists on www.bkkartbiennale.com.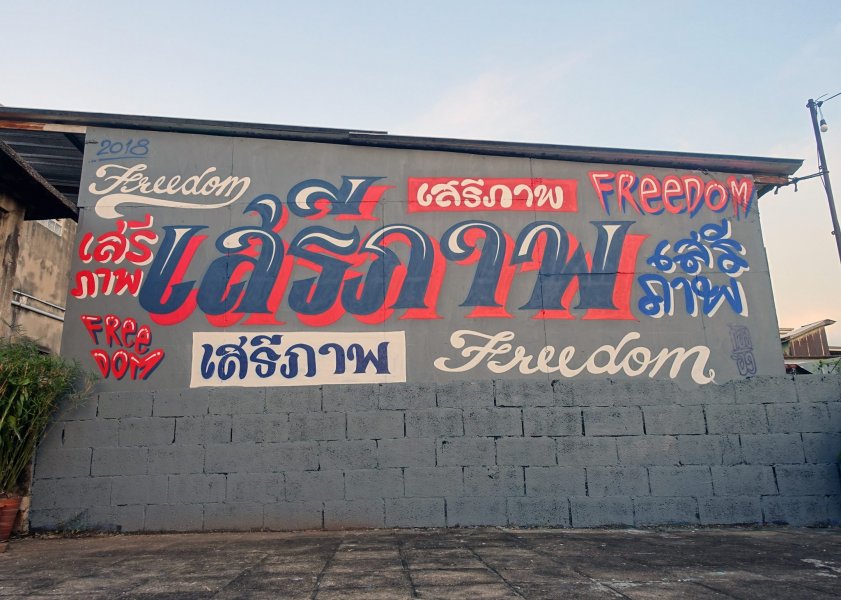 Gong's "Freedom," Cho Why
Art organization Souled Out Studios will take up a two-month residency at Chinatown's Cho Why gallery, with exhibitions from top local and foreign names in street art, including Gong Rachan Klomklieng, Martin Whatson, Muebon and Kraisak Chirachaisakul.
Oct 20-Dec 10, 6pm. Cho Why, Soi Nana, Charoen Krung Rd.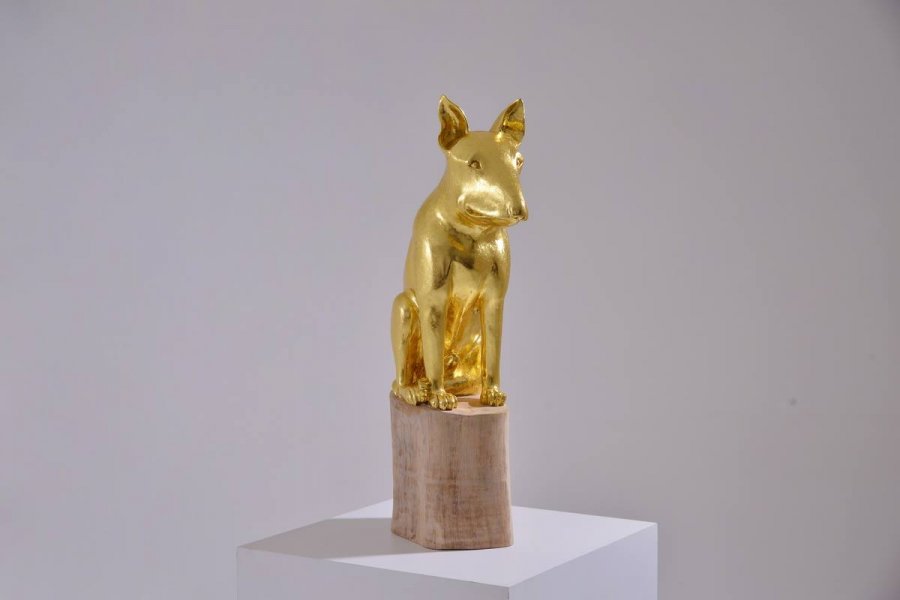 As part of the very first Bangkok Art Biennale, the French visual artist Aurèle Ricard will showcase his paintings and seven sculptures of his globetrotting "LostDog" in different sizes and colors.
Through Feb 2, 10am. PT Gallery, Charoenkrung Soi 30, 02-266-4344.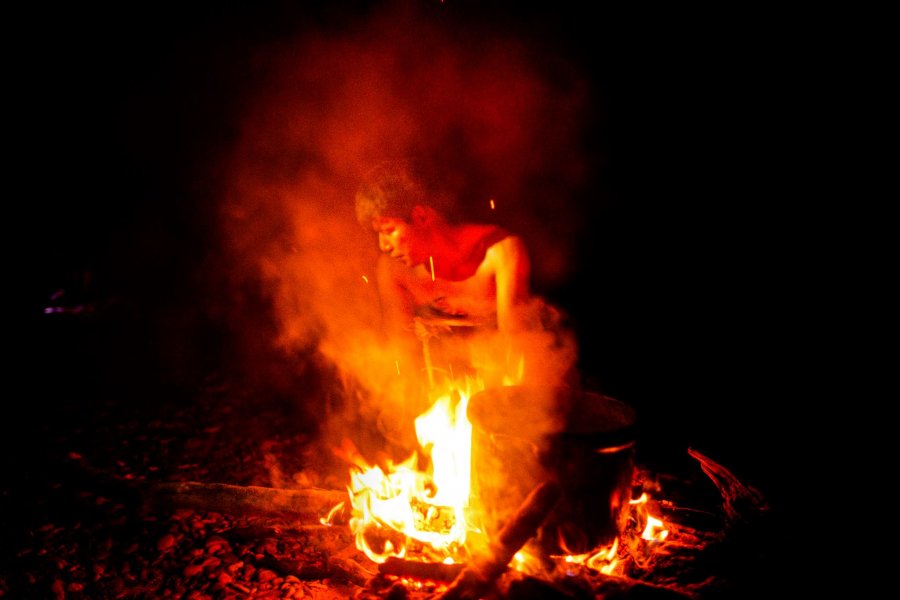 A photo exhibition exploring mystical and magical stories from the remote corners of ancient Peru. Organized by the Embassy of Peru in Bangkok in collaboration with House of Lucie.
Oct 12-31, 7pm. House of Lucie, Ekkamai Soi 8, 095-478-9987. Free.
Catch a screening of this documentary in which Oscar winner Luc Jacquet (March of the Penguins) takes a spectacular journey into the rainforests of the Peruvian Amazon and Gabon with French botanist and ecologist Francis Halle.
Through Nov 8, various times. Doc Club Theater, Warehouse 30, Charoenkrung Rd. B100.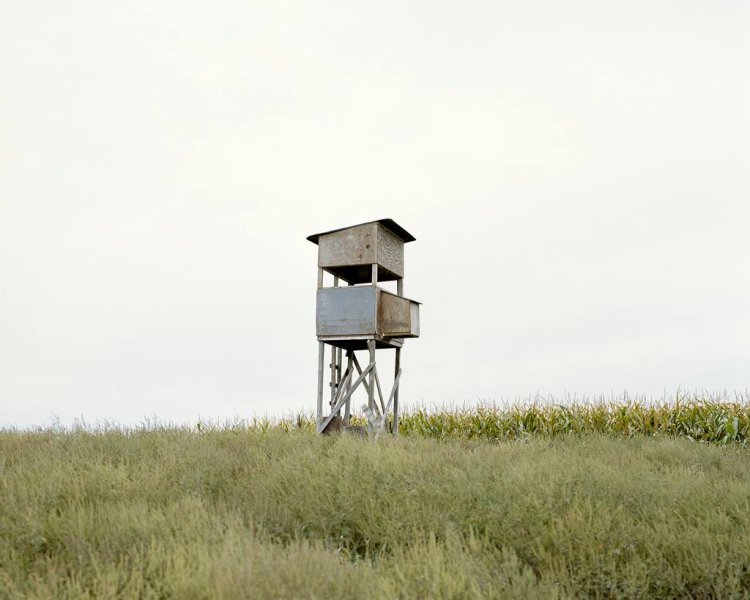 A collection of fine art documentary photography from Wisconsin-based Jason Vaughn exploring the tradition of deer hunting and wider ideas of permanence and impermanence.
Through Oct 31, 7pm. House of Lucie, Ekkamai Soi 8, 095-478-9987.
Three artists, Ditapong Boonsanong, Ong-arj Loeamornpagsin and Suwit Maprajuab, explore ideas of existence and humans' position within the universe through their art.
Through Nov 25. Changchui, Sirinthorn Rd., 081-817-2888.
Nuttapong Daovichitr's screen-print art exhibition explores the concepts of transience, conflict and adaption.
Through Oct 31, 6pm. Goose Life Space, 1029/12, Phahonyothin Rd.
Exhibition from 12 artists capturing how art has changed from past to the present, with a focus on new ideas and the effects of technology.
Through Oct 29. Changchui, Sirinthorn Rd., 081-817-2888.