Samkwan "Moy" Tonsompong is the managing director of Bangkok-based record label What the Duck. His team recently held "Whal & Dolph Online Market Concert," the first ever live, interactive, online concert of its kind in Thailand. We caught up with him to find out how it went down.
What inspired you to create this event?
In the music business, our main income is show business, so not only the artists and the label, but the whole ecosystem of the music industry was directly affected by the covid crisis. You have technicians, sound engineers, lighting—their jobs are on a day by day basis and they're totally gone. We were like, "how can we help them?" So, we came up with the concert. We wanted to make it more interesting than just the live performances that everyone is doing right now, so we decided to rent a studio and add a proper set up and lighting. I got one of my friends who runs a production company involved and he said "Let's do something that people have never done before. Let's make an online interactive performance and let's sell the tickets!" At first, I thought, "you're going to sell the tickets, really?" It costs a lot of money to build a studio like that, so I agreed to do something experimental. From the time that I first spoke with the band to when we held the concert, it was only three weeks! Because, you know, times like this you have to make things fast.
Why did you choose Whal & Dolph and what was their reaction to the idea?
When I asked the band if they were in, they said "Let's do it!". I would say that not every artist can do this kind of thing—it totally depends on their fanbase as well. The reason we did it with Whal & Dolph is because their fans are Generation Z, so a lot of them are still in high school and their first year of university. Those kinds of people really connect online and they support their artists in every way they can—and, you know, the tickets sold out in 10 minutes! What the Duck has been in business for five years and when we started we were a fully digital music label, so it's kind of easy for us to communicate with the fans as well.
How did the interactive element work?
For the LED screens, we had help from one of my partners at Media Vision Company. Normally, those screens would be put on the back of the stage to play visuals, but this time it was the other way around—in front of the band, so they can see the audience [on Zoom]. It was my friend from HUI Company's idea to put everyone's faces on the screen; it's in real time, so the band is very close to the fans—they can't touch them but they can see their faces, and during some of the songs [the fans] were even crying. The viewers could switch between watching the band and talking to each other and we had some sections where the band would pick someone [to speak to] and we spotlighted them. We even had an application, so your phone could be a second screen with visuals. The tickets were B400, but with this we also sent viewers a concert kit with masks, boards for writing messages and lights—so, at the concert, the band could say, "Turn off the lights in your house and make it look like the sky with stars."
Were there any standout moments?
One very touching moment was when the band picked out this guy who got his acoustic guitar out and played with the band. When the concert was done, I learned that a few years ago, this guy met the band and told them he hoped he could play their music for them one day—and then it happened in this concert! At a regular concert, you can't be this close.
What did you learn along the way?
I thought the 1,000 [attendees] would be hardcore fans of the band, but apparently half of the audience had never come to Whal & Dolph's [live] concert. Maybe it is because they're too young to come to the concert—in Thailand, concerts are normally sponsored by alcohol, so a lot of kids can't go—or maybe they live outside of Bangkok, so we thought "wow, this is kind of cool!" Some of the bands have fans in China, South America; now they don't have to fly all the way here, as you can have a concert for them [online].
So, will you be doing more of these in future?
Definitely! Even when covid has gone away and we have a vaccine, I really believe that this kind of online interactive concert will still happen. Actual concerts and this online concert are totally different—they can't replace each other. We're lucky to be the first to do this type of online concert but this is a new opportunity for everyone. Hopefully there will be more concerts like this, and then people in other labels can work as well. I will share everything I have learned because at this time, we have to all come together. Not just only for the music business, maybe it can be adapted to other industries as well. Next, we plan to do an online music festival with six or seven artists and 3,000 people.*
Will the music scene suffer a lot following this crisis?
I think we have already suffered and survived, and I think we'll come back even stronger. It's given us time to look at what we can do better. I'm so lucky to have a great team because they work so hard. We took this opportunity to work something out. It's a good time for building community [for the artists] as well, because everyone is 100 percent online.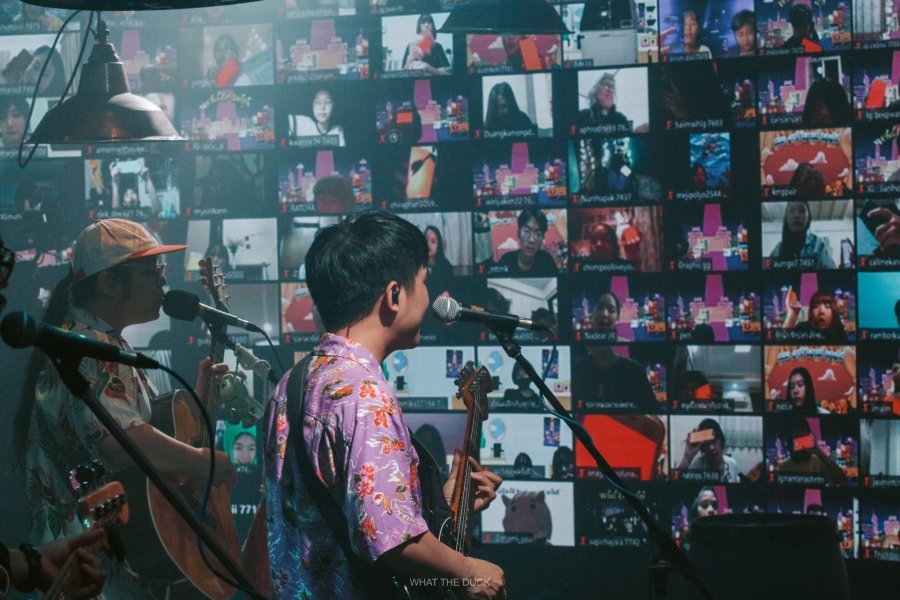 Whal & Dolph Online Market Concert. Credit: What the Duck
---
*Tickets for What the Duck's next online concert, Top Hits Thailand, go on sale this Sunday (May 24) on Ticketmelon. Taking place on Jun 7, the event will feature 10 big-name Thai bands (The Toys, Jaylerr x Paris, Bowkylion and more) playing live in a studio to an online audience of 3,000 people. Read more about it here.