When it comes to rooftop bars, Bangkok's more than got you covered. Here, we list some of the best rooftop spots across town offering incredible views—and the drinks to match.
Too many rooftops allow stunning views to be let down by substandard drinks. That's not the case here. Sit downstairs for dark spirits or upstairs for the 50-plus labels of gin, all of which can be paired with the tonic of your choosing. Their chairs with built-in air-conditioning always get us, plus their events schedule is packed with tastings, live music and even pop-up cinemas.
38/F, Marriott Marquis Queen's Park, 199 Sukhumvit Soi 22, 02-059-5999. Open daily 5pm-1am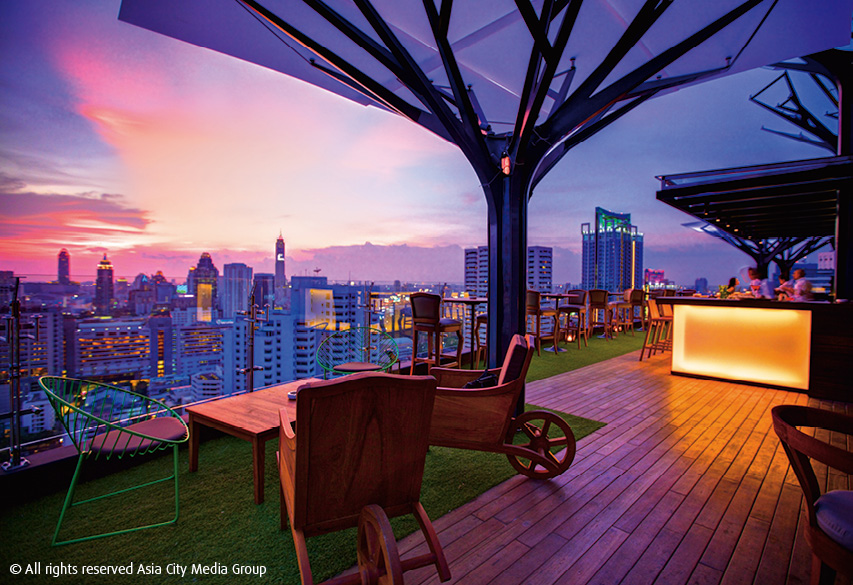 Leave the tequila sunsets to the hotels and head here for well-poured piscos overlooking a twinkling strip of downtown Sukhumvit—if you were smart enough to reserve the perennially booked-out balcony seats. As the night wears on, white dudes on dates make way for gaggles of hard-partying locals, before the whole crowd moves on to Havana Social.
33/F, Fraser Suites Sukhumvit, 38/8 Sukhumvit Soi 11, 083-542-1111. Open daily 6pm-2am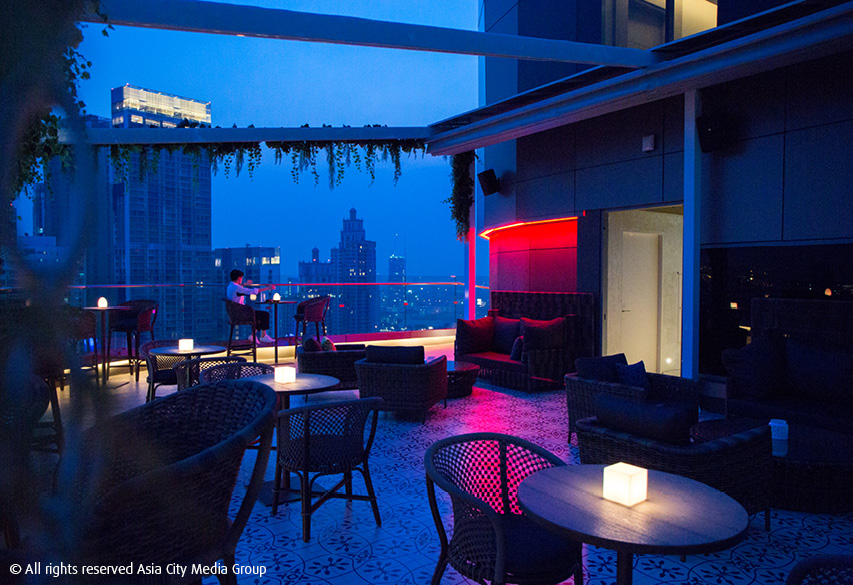 Hyatt Place enters the rooftop-bar fray with this no-frills, Benjasiri Park-view venue that's ideal for after-work drinking. All signature cocktails are B280, which in the world of rooftop bars is a steal— try the North Star, a fruity, Plantation Pineapple, pomegranate and bitters. The list of 30 wines also does not disappoint.
28/F, Hyatt Place, 22/5 Sukhumvit Soi 24, 02- 055-1234. Open daily 5pm-1am
This 39-story-high undercover lounge bar aims to bring Thai "street food" to a rooftop setting. Alongside the fancified versions of Thai classic dishes, signature cocktails also play around with a lot of local flavors. While the place is a bit small, the ceiling low and the vibe dark, there are some good cocktails at a fair price to be had.
39/F, The Continent Hotel, 413 Sukhumvit Rd. 02-867-7000. Open daily 6pm-1am
This beer bar offers 30th-floor views of Sukhumvit. Along with a free and easy party atmosphere, Brewski offers an international selection of beers, with choices ranging from American craft beers to Belgian classics. There's also a decent selection of ciders (try the Zeffer Crisp Green Apple Cider from New Zealand) and Thai-style bar munchies like sai krok Isaan (Thai-style pork sausages with fresh chilli, ginger and peanuts).
30/F, Radisson Blu Plaza, 486 Sukhumvit Soi 27, 02-302-3333. Open daily 5pm-1am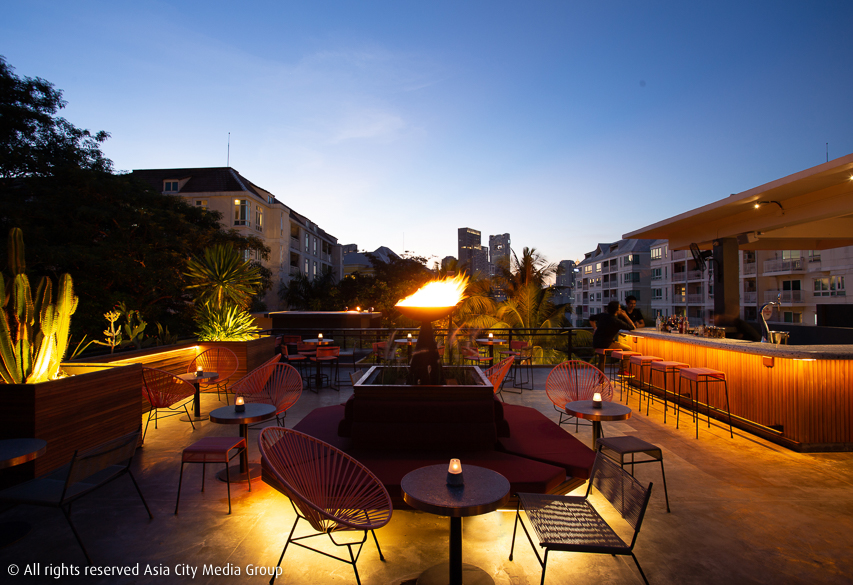 Putting Yen Akat on the nightlife map, this leafy chilled-out rooftop is Bangkok's answer to a mid-century Palm Springs lounge bar. Think dusty firepits, warm-wood seating modules, views framed by palm trees and a list of on-theme cocktails that are tasty and easy-to-down. The atmosphere is something you can't get in busy, crowded Sukhumvit.
4/F, 15 Yen Akat Rd., 083- 437-3515; 02-249-1451. Open Tue-Sun 5pm-2am
Over at the grill at this rooftop bar, they cook up some amazing beef from Australia's Darling Downs. Char takes up the top two stories of Hotel Indigo, with a stylish dining room downstairs and the rooftop bar up above to benefit from those amazing views across Bangkok's "Embassy Row."
​​​​​​26/F, Hotel Indigo, 81 Wireless Rd. 02-207-4999. Open daily 6pm-midnight
Cielo Sky Bar & Restaurant
Located on the 46th floor of Le Luk Condominium, this sky-high bar was rebranded from the previous Zeppelin Bar. Here you'll find a chilled–out vibe and dishes that focus on international favorites, from spaghetti carbonara to Australian rib-eye steak and roasted duck with fresh orange thyme sauce.
46-47/F, Le Luk Condominium, 1595/500 Sukhumvit Rd., 02-348-9100. Open daily 5pm-1am
The bar's located on what used to be a helicopter landing pad on top of the five-star hotel Centara Grand at CentralWorld. Access Cru from a little elevator at Red Sky, which drops you out right on top of the hotel, where you get a stunning, 59th-floor, 360-degree view of Bangkok. The drinks list is all about Champagne, so come prepared to order a bottle of G.H. Mumm Cordon Rouge Brut.
59/F, Centara Grand & Bangkok Convention Centre at CentralWorld, 999/99 Rama 1 Rd., 02-100-1234. Open daily 5pm-1am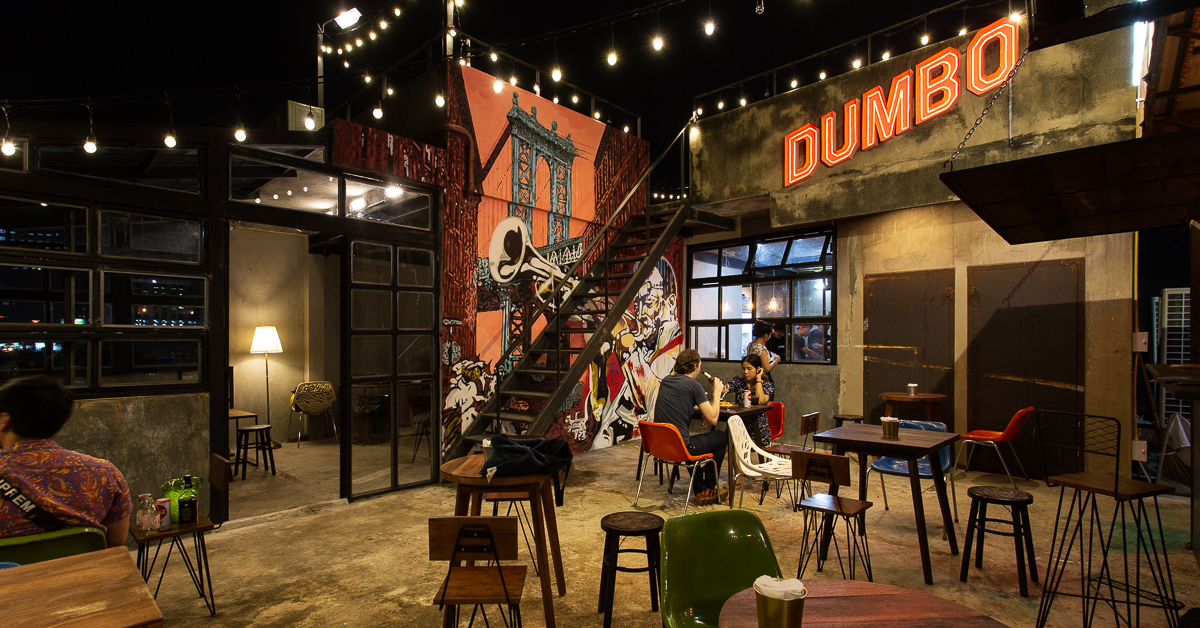 Inside this fun, laid-back bar, an imposing Abraham Lincoln mural oversees diners munching on pastas (from B220) or downing cocktails like the Dumbo, with bourbon, mint, brown sugar and orange peel (B240). The place to be is out on the concrete rooftop, where live bands play every weekend and you can watch the BTS trundle by until midnight.
490/5 Paholyothin Rd., 094-560-7222. Open Mon-Sat 5pm-midnight
Swanky EmQuartier dedicates some fifth-floor, mall-top space to a venue that's part tapas bar, part tiki bar and wholly committed to its "downtown beach club" theme. Instagram-ready nooks litter the huge, tropical-plant and pink-flamingo festooned area.
5/F, The EmQuartier, 693, 695 Sukhumvit Rd., 02- 258-6515. Open daily 5pm-midnight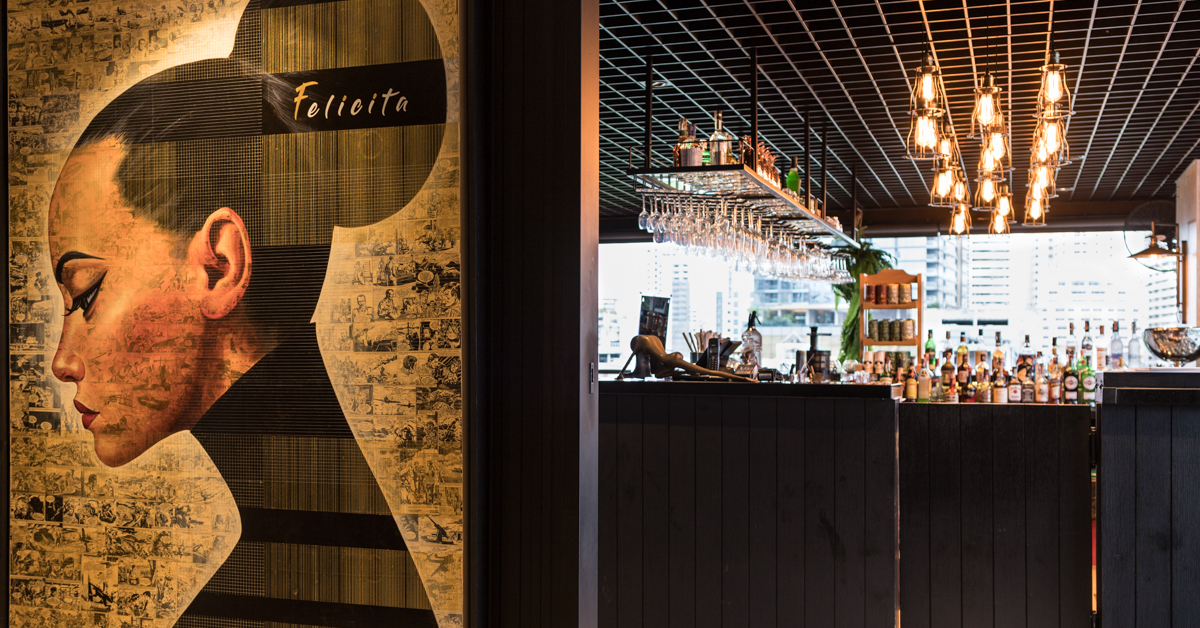 Located in the middle of Nana on the seventh floor of The Key Premier hotel, Felicita is a modern spy-themed restaurant, steeped in blue sapphire and black interiors with dim lighting. Large windows open to a city view and lead to terraces, where seasoned French chef Julien Le Breton serves a menu of international ingredients, from the Felicita buratta (B400), braised lamb ragout (B490) and Italian black ink spaghetti all' aglio e olio (black ink spaghetti with river prawns, B400), plus Thai specialities.
2 Sukhumvit Soi 7, 02-255-1988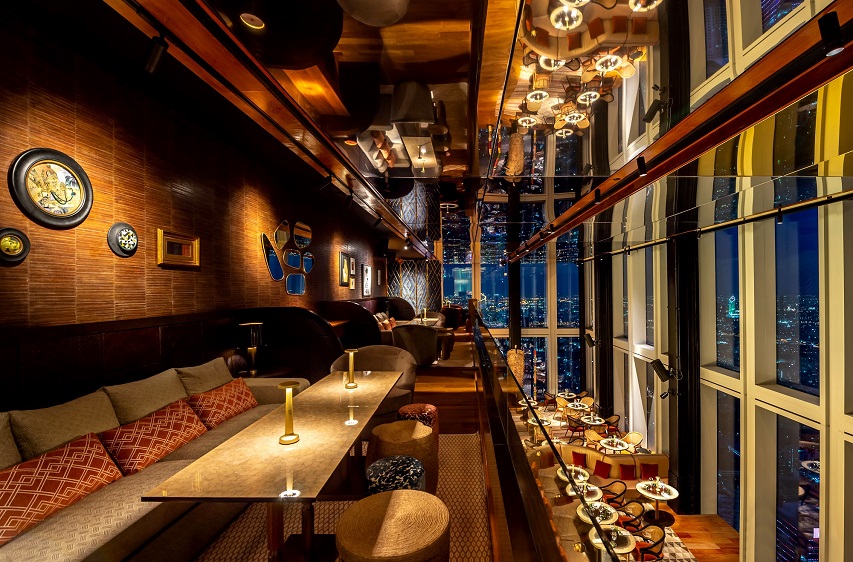 After unveiling the highest observation deck in Bangkok last November, King Power Mahanakhon opened the highest restaurant and bar in Thailand on the building's 76th and 77th floors, where the elegant Thai-French interiors are framed through floor-to-ceiling-windows. Western and Asian dishes are joined by a wine list of over 100 bottles (from B450/glass for the 2016 Russian Jack NZ Sauvignonn Blanc to B57,400 for a bottle of 2009 French Chateau Angelus Bordeaux). There's also an extensive list of classic cocktails (B450), all served from a dashing white marble bar.
Mahanakhon Bangkok Skybar, 76-77/F, King Power Mahanakhon, Narathiwas Rd.
A rooftop bar with the added bonus of being right by Thonglor, this place is our favorite diversion tactic to use on out-of-town friends when they start mumbling "skybar." Cocktails don't come quite at street-level prices, but you do get a stunning view of downtown Sukhumvit, coupled with an upbeat crowd of tourists.
​​​​​​45/F, Marriott Hotel Sukhumvit, 2 Sukhumvit Soi 57, 02-797-0000. Open daily 5pm-2am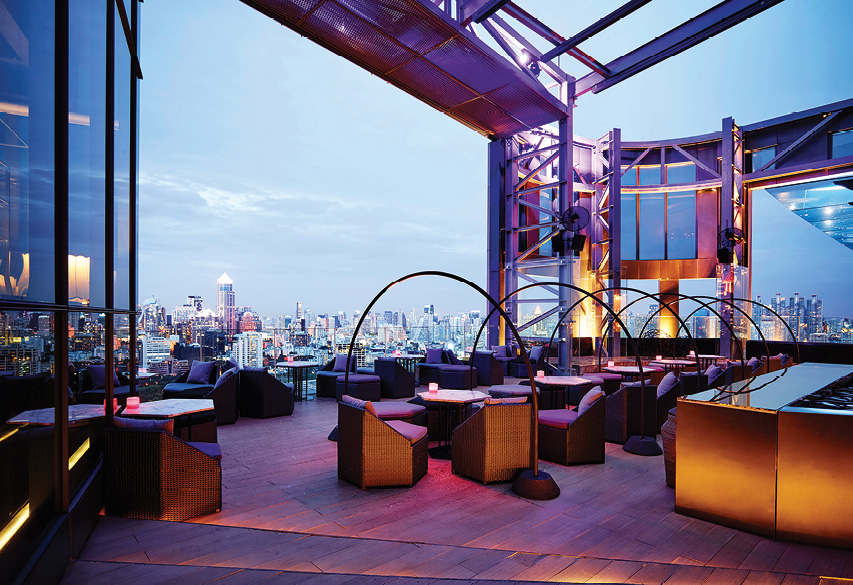 This rooftop serves up one of Bangkok's most stunning sunset scenes—looking straight over Lumphini Park and onto the gleaming skyscrapers of Phloen Chit. Maybe that's why it's one of the few spots that attracts a local crowd, one that likes to knock back Champagne and smoke cigars while reposed on the almost-too-comfy scarlet daybeds. Oh, and they give out enough complimentary cashews and olives to make you say, "let's screw dinner."
29/F, So Sofitel Hotel, 2 North Sathorn Rd., 02-624-0000. Open daily 5pm–1am

We love Penthouse for one simple reason: they don't rip you off. In fact, we don't reckon there's a cheaper beer at a five-star rooftop in Bangkok, which is part of the reason it ranked in the top three in last year's BAD Awards. It also helps when the view's this stunning, plus that name—the Park Hyatt—it just sounds good.
34-36/F, Park Hyatt, 88 Wireless Rd., 02-011-7480. Open daily noon-2pm, 6-10:30pm
The 55th-floor view from Centara's rooftop puts this bar in the same league as other high flyers, like Vertigo at the Banyan Tree. Al fresco dining and drinking takes place under a swooping, red-lit arch, while chef Christian Ham's seasonal menus spotlight classic, rich steak dishes. Don't miss the truffle-infused wagyu beef tenderloin Rossini—a menu staple and proven crowd pleaser.
55/F, Centara Grand at CentralWorld, 999/99 Rama 1 Rd., 02-100-6255. Open daily 6-11:30pm
Situated on the 25th floor of Novotel Bangkok Sukhumvit 4 hotel is this swanky rooftop bar with the unique claim to being the first rooftop vodka bar in Bangkok, replete with the best panoramic city views you could wish for. You'll find an international selection of vodka here, ranging from North American (Burnett's, Crystal Head, Stilltheone and Skyy) and European imports (Ciroc, Finlandia, Belvedere, Arctic and Chase), to vodka-inspired cocktails from South America and Africa.
25/F, Novotel Bangkok Sukhumvit 4, Sukhumvit Soi 4, 02-667-5808. Open daily 4pm-1am
This rooftop bistro and bar offers a happening vibe thanks to clean black-and-white industrial decor (think New York subway tiles and metal cafe chairs), a DJ booth that pumps out house tunes and a loungey area overlooking Phloen Chit. The fourth-floor views can't compete with the most famous rooftop bar on top of hotels, but you do get a suitably urban vibe due its very central location. Overall it's a laidback and highly affordable option with a menu of fuss-free comfort food such as risottos, pastas or fish and chips.
4/F, Mercury Ville, 504 Phloen Chit Rd., 02-658-5655. Open daily daily 11am-midnight
This rooftop bar and restaurant offers 25th-story views of Siam (including National Stadium) in a refreshingly fuss-free atmosphere. The urban jungle decor is a playful blend of sculptural pieces and funky lighting while the menu is devoted to Asian-twisted tapas and fruity, funky cocktails.
25/F, Siam@Siam, 865 Rama 1 Rd., 02-217-3070. Open daily 6-11pm
This year, Seen replaced its predecessor Attitude, bringing some Portuguese flair to the riverside courtesy of celeb chef Olivier Da Costa. Now, those same sweeping views over the Chao Phraya River combine with a stunningly lavish design, funky music, playful cocktails and friendly service for a relaxed but special feel.
26/F, Avani Riverside, 257 Charoen Nakhon Rd., 02-431-9120. Open daily 6pm-1am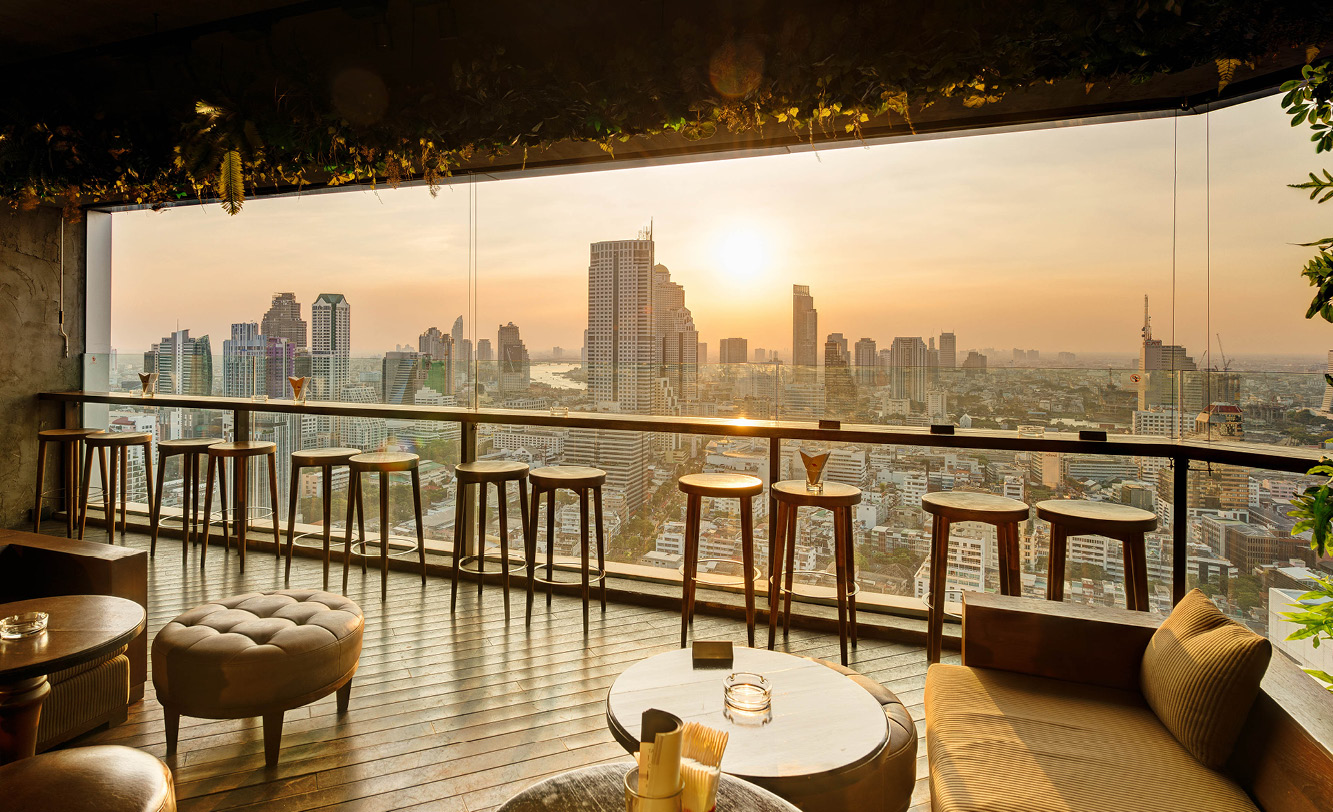 Perched 37 floors above Silom, with river views to boot, this wine bistro combines well-executed French comfort food, chargrilled Aussie steaks and a long, long wine list into one sleek yet affordable package. The charcuterie and cheese platters also come highly recommended—just be sure to book well ahead for a spot on the terrace.
37/F, Pullman Bangkok Hotel G, 188 Silom Rd., 096-860-7990. Open daily 5pm-1am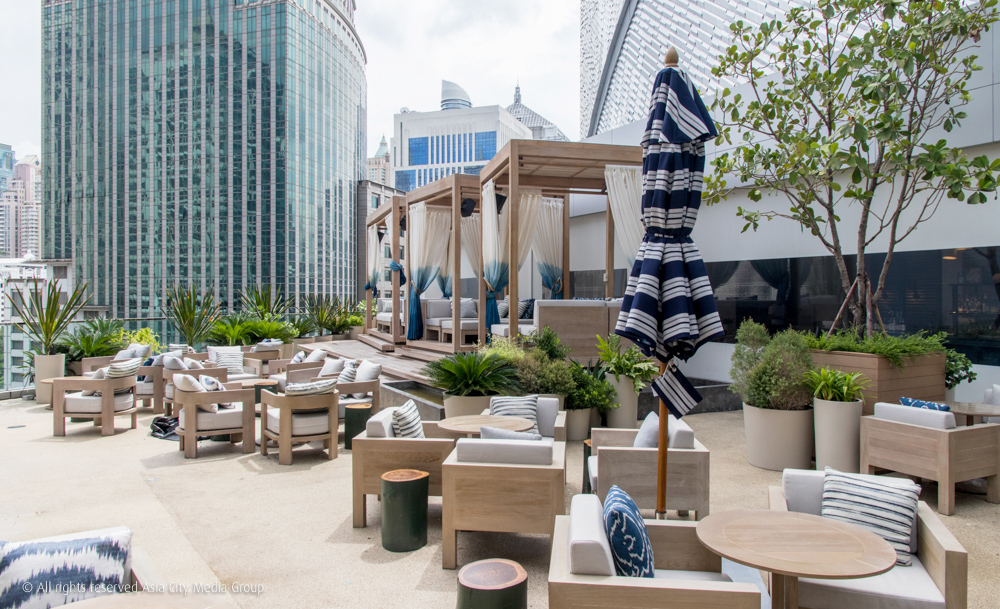 This vast complex of restaurants and bars whips out refreshing tropical cocktails amidst the airy view of Phloen Chit's neighborhood. Order the grilled pineapple iced tea (with double-roasted chili and cinnamon syrup) or go with its original twist on classic spirit-forward drinks like the Black Pearl Old Fashioned instead. The venue also boast some amazing musical acts on a regular basis.
5/F, Central Embassy, Phloen Chit Rd., 02-160-5631. Open daily 11am-midnight
Maybe the most chilled out—and definitely the best value—rooftop bar in the city is the kind of place we wish could remain a secret. Here you can expect legitimately affordable cocktails on a rooftop that are actually good, plus a low-key house soundtrack and room to breathe.
26/F, Novotel Bangkok, 19/9 Sukhumvit Soi 20, 02-009-4999. Open daily 5pm-midnight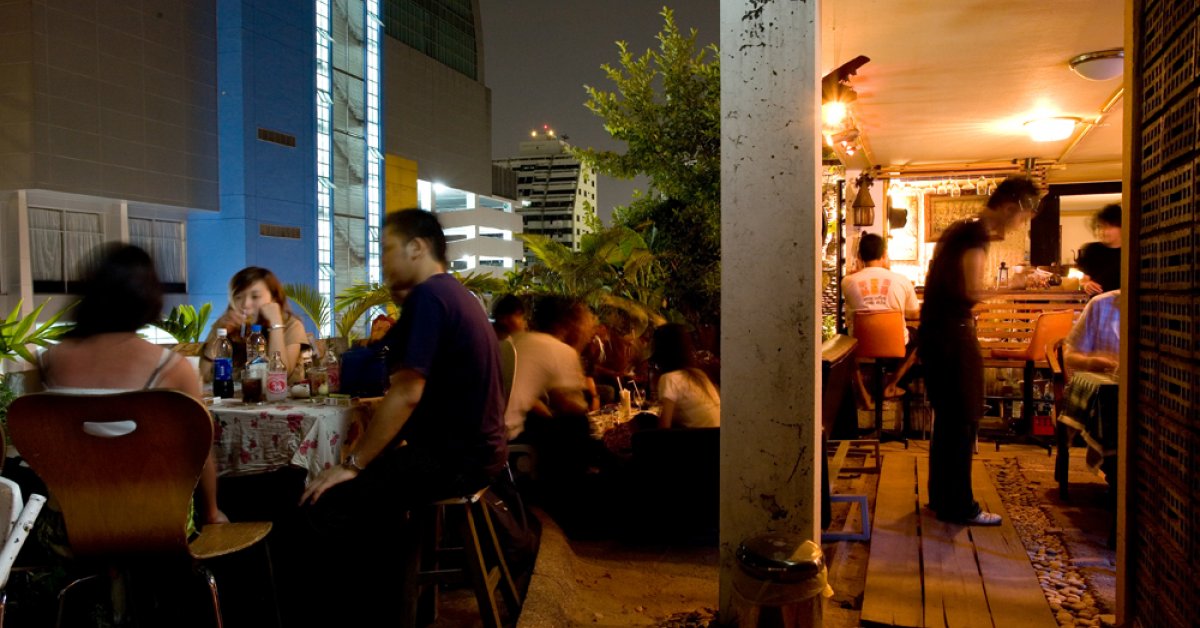 It's long, steep climb to the top—and you may not get a seat on weekend nights—but Skytrain Jazz's rooftop location and grungy shophouse location gives it a wonderfully gritty urban feel. Sip on Singha as the BTS rattles past, basking in the pale light of Century Movie Plaza's giant marquee. This is not a rooftop bar to escape the big bad city, it's where you come to remember why you love it.
5/F, 6 Rangnam Rd., 02-640-0303. Open daily 5pm-1am
This rooftop cocktail lounge takes you back to the jazz age. The two-story space sports prohibition era-inspired decor, featuring lots of dark woods and Art Deco touches. A balcony on the 24th floor lets you take in 180-degree views of Bangkok's business district, while an alfresco rooftop offers a more leisurely atmosphere.
24-25/F, Hotel Muse Bangkok Langsuan, 55/555 Lang Suan Rd., 02-630-4000. Open daily 5:30pm-1am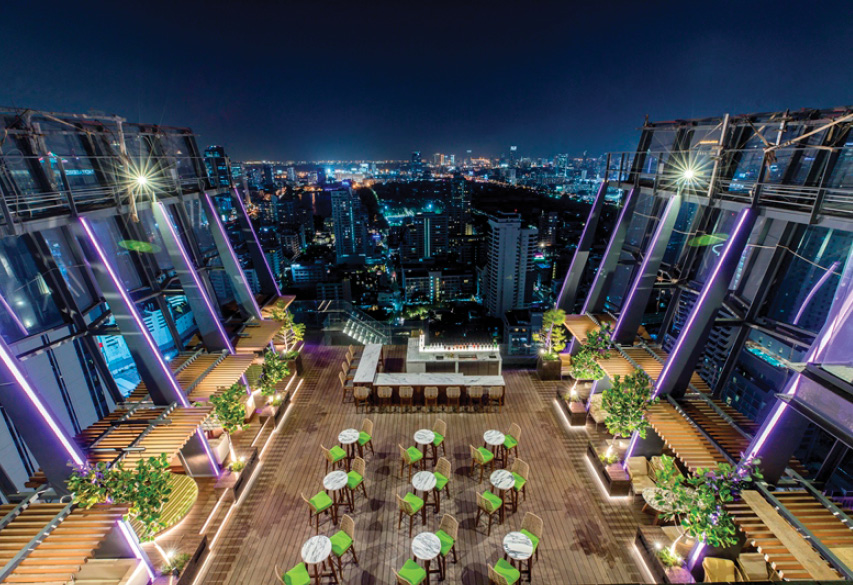 Spread over three levels and 280 sq meters, Spectrum can accommodate almost 300 people. The inviting indoor living room comes with a sky blue velvet carpet, a glowing gold fretwork ceiling, a black marble bar and Thai artwork, while the outdoor bar features wooden decking and lime-cushioned chairs flanked by purple neon light—for date night, opt for one of the rooftop's cozy tree-lined alcoves. Fancy tapas like wagyu beef sliders (B580) accompany cocktails like the Giant Pandan (B340), a blend of vodka, Midori, grapefruit juice, pandan, lime, egg white and bitters.
29-31/F, Hyatt Regency Bangkok Sukhumvit, 1 Sukhumvit Soi 13, 02-098-1234. Open daily 5:30pm-1am
Sitting on top of the Hotel Once, this multi-level bar and grill offers 360-degree views from its upper level. You come here for quiet, intimate evenings and small gatherings among friends in an area of the city which is only just waking up to nightlife—but which has the authentic atmosphere of old Bangkok. The food menu, however, is not so Thai, offering a selection of barbecue specials like pork, chicken, beef, salmon and shrimp as well as pastas. To drink, it's cocktails or local and imported beers.
8-9/F, Hotel Once Bangkok, 2074/99 Charoenkrung Soi 72/2, 02-688-2596. Open daily 6pm-midnight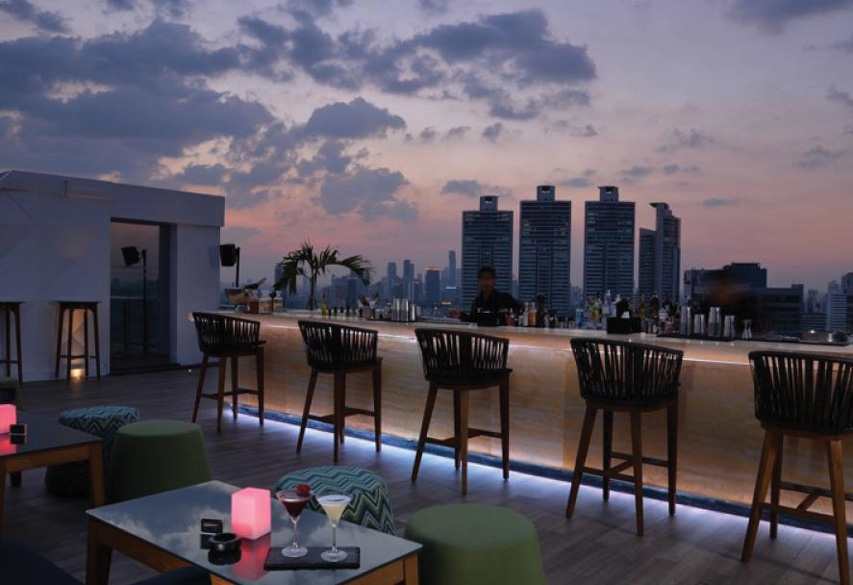 Decked out with LED lights, Vanilla Sky gives off a fancy sky bar atmosphere, but still remains easy-going. Gin and tonics take a starring role in the cocktail menu, with some unusual flavors the mix (think peppermint and passionfruit or chestnut and chamomile). While here, be sure to visit sister bar Mojjo, which serves rum-heavy drinks amid a Cuban theme a few floors below.
35/F, Compass SkyView Hotel 12, Sukhumvit Soi 24, 02-011-1111. Open daily 5pm-2am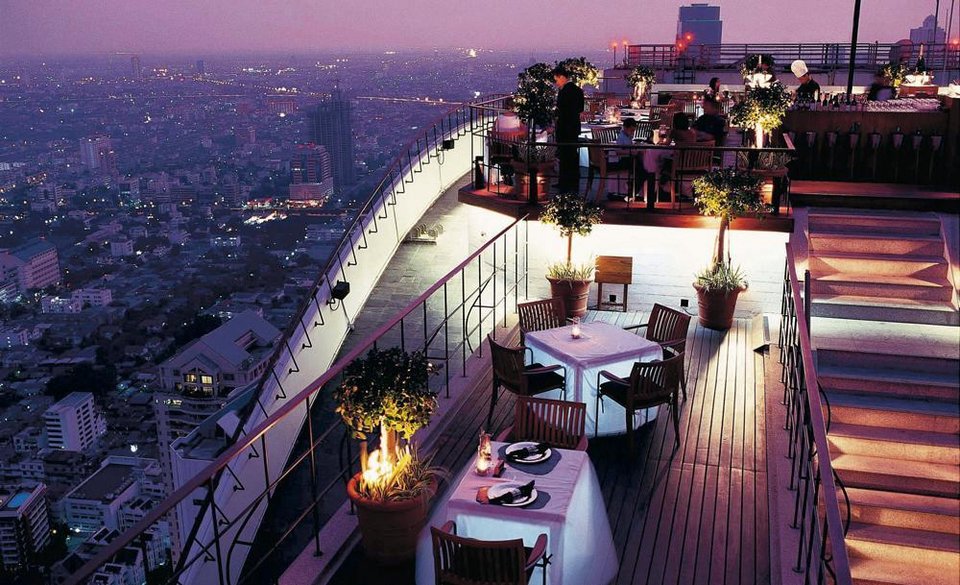 Legendary for its heart-stopping 61-story views of the scattered city lights, Moon Bar was one of the first rooftop places in town and it's still hard to beat the vertiginous 360-degree views offered up by this small al fresco bar atop the Banyan Tree Hotel. If you can stomach the feeling that you're at a tourist trap (and the accompanying prices), the views are indeed spectacular.
61/F, The Banyan Tree, 21/100 Sathorn Rd., 02-6791200. Open daily 5pm-1am

You'll feel like you're entering the secret garden as you ascend the creaky wooden staircase that leads to this rustic rooftop bar. Through a maze of hanging plants, flower tube chandeliers, exposed brick walls, fairy lights and wooden ladders, you'll be met with international dishes and Garden of Eden-themed cocktails.
Rooftop/F, Oneday Wallflowers, 37-39-41 Soi Nana, 096-727-6789. Open daily 6pm-midnight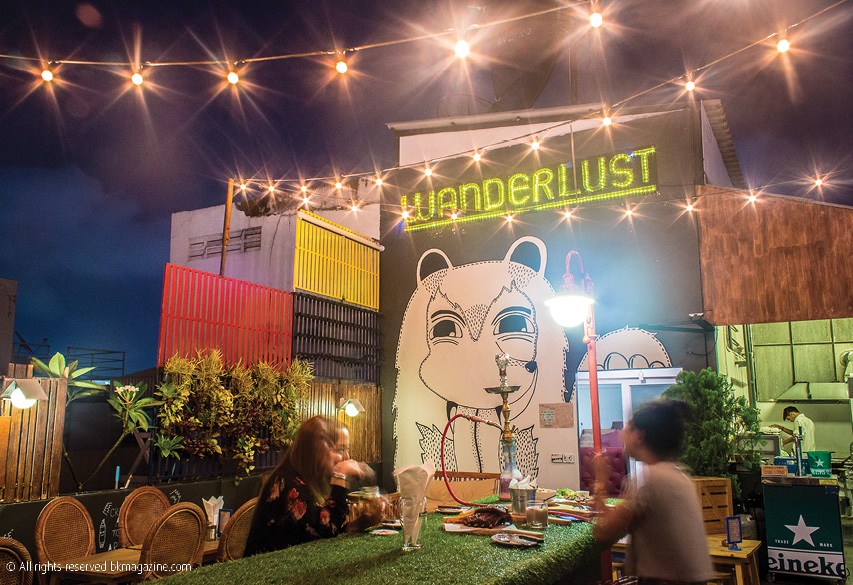 Yes, this rooftop joint does employ fake grass (and even grass-covered tables), but we like the laidback atmosphere and good tunes. The mismatched wooden sofas and rattan chairs make it feel a little like a traditional riverside restaurant, but the clientele is way less tourist-y. Most of the cocktails are girl-friendly—sweet and sour, pretty and not too strong.
5/F, Nakiya Restaurant Building, Thonglor Soi 13, 088-696-9445. Open daily 6pm-2am
Sip on botanical cocktails at this Shanghainese-inspired spot whilst taking in the Silom-Sathorn skyline. Drinks come in stunning colors, like the fresh green Sweet Little Jade, blended with Midori, kiwi, lime, vodka and prosecco, or the deep purple Shanghai, The City Upon the Sea, which gains its hue from butterfly pea flower.
32/F, Marriott Hotel The Surawongse, 262 Surawong Rd., 02-088-5666. Open daily 5pm-2am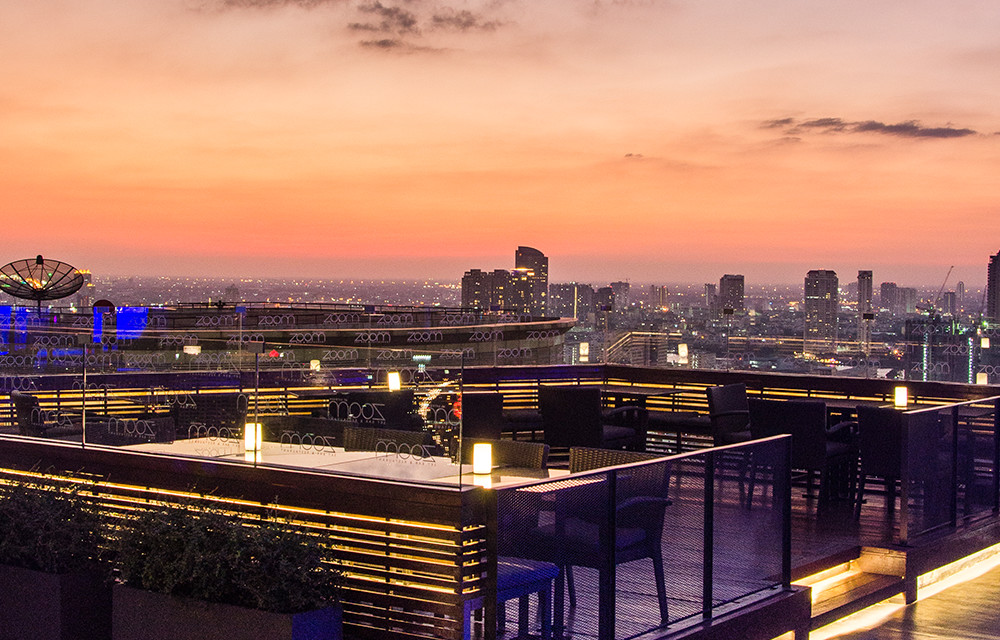 The Anantara Sathorn's 40th floor has a 360-degree cityscape view, complete with a DJ and dance floor and spacious wooden patios. Both the food and drink lists are vast, making this a prime spot for watching the hotel's shadow fall on Chan Road.
Anantara Bangkok Sathorn Hotel, 36 Narathiwat Ratchanakarin Rd. 02-210-9000. Open daily 5:30pm-1am
---
BK B.A.D. Awards 2019 is available as a free booklet inserted in BK Magazine issue number 751 (Nov 23) and as a downloadable PDF version here.